[Book review published in the Asahi Shimbun! ]
A book review of "Illustration, 17 prefectures of radioactivity measurement map + reading collection" by Essayist Miyata Tamaki was published in the Asahi Shimbun dated January 19! !
http://urx2.nu/PpSA
"In Chernobyl, there is a feeling that the country's response is so bad that contaminated areas in the forced relocation level are out of evacuation order areas in Japan, so it is necessary to do such efforts, and research will be continued steadily I want to show respect to those who are
I wrote that.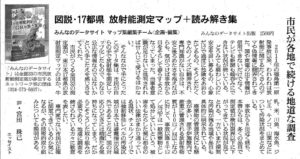 In addition, it is not reservation in amazon, but regular sale starts.
It is "Best seller first place" in the nuclear power and radiation category!
http://urx2.nu/PpSe
You can of course buy them online, but I think it is important to increase the number of bookstores that support you as much as possible, and to see the eyes of many people.
As handling was started little by little even in large bookstores such as Kinokuniya and Maruzen Junkudo, please visit a nearby bookstore!
Also, if you do not have inventory available, it would be even more appreciated if you could request an order.
There are places in the measurement room at the data site!
Knowing correctly, and not letting it not be.
Volunteers who cooperated and our staff's feelings are starting to move society big and quietly.
Thank you for your continued support! !
---