Junichi Onuma, who is a member of the Data Site Participation Measurement Room (Nagoya C-Lab) and a member of the Nuclear Citizens' Commission, was invited to a French citizen's organization in February, and hosted the Olympics with an English version of the map collection. And gave lectures in Switzerland and France. The report includes a speech in front of the IOC headquarters and an appeal to three IOC representatives in a conference room.

---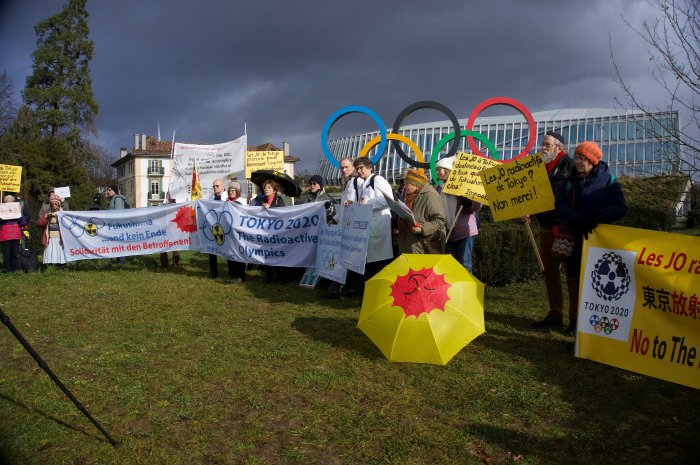 ---
■ Request action before IOC headquarters and interview with IOC
Lausanne is a castle town of the IOC and has a lot of money from them.
Therefore, even if a stranger came and performed a protest, the town people would not easily come together.
But people came from all over Europe.
A total of about 60 people came from Paris, IPPNW doctors in Germany, and from all over Switzerland.

Well, after this protest, there was something unexpected.

It was the IOC that invited us, "Please go inside."
There was a limit of 4 people, but I had one of them, IOC meeting room,
I had the opportunity to spend almost an hour and listen to our request.
There were three people, a spokesperson, a physician and a head of the competition department.
What I talked about centered on the power points of the lectures being held on this expedition.
The interpreter was 15 minutes and a Swiss doctor talked about 5 minutes. I got an answer from the other party for about 10 minutes.

Leaving severe radioactive contamination and depriving displaced people of compensation and the right to immigration,
I told them that there would be no Olympics in a policy of returnless care.
Unfortunately, there are no photos or videos of the meeting with the IOC.
Some of the contents of the lectures of this expedition are recorded as videos, so I will introduce them.
This information was reported to the IOC.

* Click here for the video of the lecture


It was impressive that the three members of the IOC took a lot of notes like shorthand.
The doctor also took notes while nodding many times.

One of the three people was not good at French, so I asked for an interpreter in English.
Perhaps such a story has never been heard from the IOC in Japan or from government sources.

The first word from the other party was that the Olympics could not be canceled,
Still, I got a comment saying "I'll tell you properly."
I will ask you to send me a note again from the interpreter who was present,
After such protests in Japan, they were actually invited inside,
It was even more surprising because there was nothing to listen to the story so carefully.

---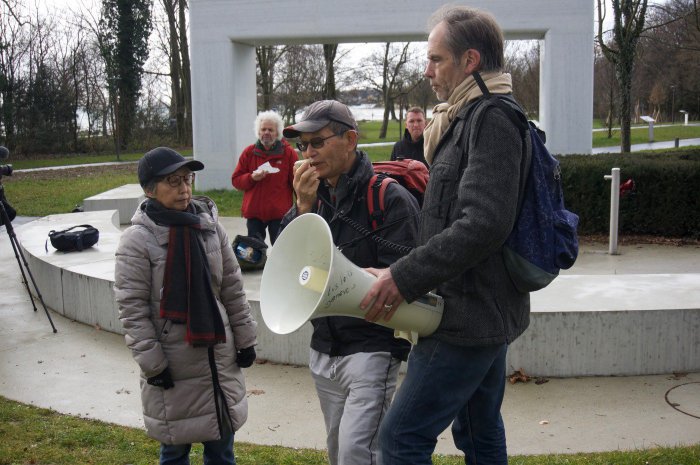 ---
---
In addition, in Geneva, I stayed at a home where I was a staff member of the United Nations High Commissioner for Refugees Office.

Under Sadako Ogata, who has worked in Japan for three years, he protested that the World Health Organization (WHO) surrendered to the IAEA (International Atomic Energy Agency) (1959 Agreement WHA 12-40). Had been standing in front of WHO every day for 10 years
I am a member of a civil society called Independent WHO.
There is a detailed explanation on the meaning of WHO's yielding to the IAEA on this Independent WHO website ,
The point is that WHO and the IAEA will cooperate and collaborate with each other for the purpose of promoting the peaceful use of nuclear energy promoted by the IAEA.
In other words, it indicates that people's health issues and the economics of promoting the use of nuclear energy have become independent and influential.

In other words, WHO may consider the IAEA harmful to health caused by nuclear power (radiation).
---